Roman Shades: A Timeless Look & Feel For Windows In Eastside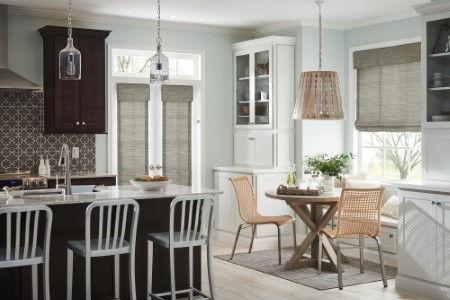 If you're one of the many Eastside homeowners out there that's constantly struggling to keep the inside of your home free from glare and heat build-up, roman shades might be an option worth considering. Roman shades can be a wonderful option for helping to control the amount of glare and heat coming into your home, and here at Hometown Blinds, we're the reliable window shade company for Eastside you can rely on to help you find and install the perfect new roman shades you've wanted for your home. Are you looking for a professional Eastside window shade company that can help you find the new roman shades you've been dreaming of for your home? If so, give our team of skilled professionals a call today and let us show you the kind of quality results that have helped make us one of the most trusted sources for quality roman shades and transitional shades the area has to offer.
When it comes to high-quality shades for your windows, roman shades are easily one of the more popular options out there. One of the elements that make roman shades so unique is that their construction allows them to lay completely flat while down, but when drawn up, they lay almost perfectly flat against the top of your windows, helping them stay out of the way when you don't need them. Because roman shades don't have any gaps or openings like you would have with blinds or shutters, they provide you with the same even reduction in glare all the way through. If you have any questions about our full line of high-quality roman shades, or you're interested in our many window shade options, give us a call today. Our team of experts is always standing by and would be happy to assist you in any way we can.
Classic Fabric Window Shade
Classic roman shades are made of one continuous piece of fabric and are designed to lay flat against your window. Fabric roman shades provide a clean and tailored look to any room while the soft fabric adds a layer of depth to the design. If you're looking to create such a look in your home, give our team of skilled window shade professionals a call today and let us help you bring your vision to life.
Eastside Roman Shade Experts
Despite the fact that all roman shades are constructed in a similar manner, they're available in a wide variety of different materials that will affect both their look and their overall function. Fabric is one of the more common materials, but woven wood comes in at a very close second. Regardless of which material you choose for your roman shades, you can have peace of mind in knowing that they are all equally easy to maintain and clean. Since they are designed to lay flat when open, cleaning them is a breeze, and without a great deal of moving parts, the need for maintenance or repairs will be kept to a minimum.
GIVE US A CALL TODAY FOR CUSTOM BLINDS & SHADES IN THE EASTSIDE AREA!